LEADERSHIP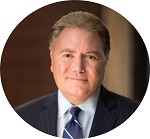 Thomas R. Livergood
Founder & Chief Executive Officer
Tom Livergood is CEO of The Family Wealth Alliance, which he founded in 2003.  In 2016, he also created a spin-off organization called Bespoke: The Private Family Advocate – both headquartered in Chicago.  Tom and his organizations have been recognized as innovative leaders in the family wealth space, as he has spoken at numerous gatherings throughout North America and in London and Hong Kong, as well as appearing and being quoted in national print, broadcast, and online media. 
Tom grew up in a third generation family business in Central Illinois that was sold while he was in college in the 1970s… After that, he simply grew up in this business -  first as a financial planner in the 1980s with CIGNA, as a private banker with the Harris Bank of Chicago in the 1990s, and in the early part of the last decade, Tom was a Director at Family Office Exchange, charged with starting their MFO Community.  Tom was named three times by Worth magazine as one of the Top 300 Financial Advisors in North America, and among many volunteer positions, he was a founding national director of the 30,000 member Financial Planning Association at the time of its merger in the year 2000.  Tom also held the CFP ® certification from 1995 through 2008.  A double graduate of Bradley University, he holds the BA in Liberal Arts and the MBA in Finance.
 
 

Kati Jendraszak

Director of Operations

 

Brooke Morimoto

Director of Strategic Programs

 

Brandelynn Perry

Alliance Ambassador

Kati Jendraszak is the Director of Operations for The Family Wealth Alliance. In this role, she is responsible for assisting, organizing, planning, prioritizing and helping to execute the firm's day to day business operations.  Kati has over 10 years in business management experience, focused on issues including office operations, staff development, strategic planning and event management.

She received her BA in Psychology, from Concordia University Chicago and her Master's Degree in Education Psychology from The University of Southern Mississippi. 
 
Brooke Morimoto is the Director of Strategic Programs for The Family Wealth Alliance. In this role, Brooke is responsible for organization programming, special projects, marketing and editorial strategy, as well as the design and implementation of comprehensive organization processes. Prior to joining The Alliance, Brooke worked in the nonprofit sector in data management and strategic planning roles.

Brooke received her master's degree in Public Administration, and a BA in History and Political Science from The University of North Carolina at Charlotte.
 

Brandelynn Perry is the Alliance Ambassador for The Family Wealth Alliance. In this role, Brandelynn is responsible for supporting the leadership team as well as driving brand management, marketing, and communication initiatives. Prior to joining The Alliance, Brandelynn worked in brand strategy and project management for a number of start-ups as well as one of the Southeast's most decorated advertising agencies.

Brandelynn received her Bachelor of Science degree in Communication from Boston University.
CONSULTANTS
Suzanne Karpick

Strategy Consultant

Trish Botoff - Botoff Consulting

Research Consultant