A Letter from Our Alliance CEO

Dear Members, Partners, and Key Stakeholders,
Today, I am proud to announce another important step in the evolution of The Family Wealth Alliance: the launch of a new brand identity that celebrates our ongoing transformation and captures our vision for the future. Since its founding in 2003, The Alliance has grown and changed, always under the direction of our excellent peer-led network and guided by our core values. We are excited to refresh our image to reflect who we are today.


Where we've been
The success of our recent COVID-19 Webinar Series, 2020 COVID-19 Report, and 2020 Young Professionals Awards nominations, on top of revamped programming and research activities, demonstrates our unwavering commitment to connecting the multifamily wealth industry during ordinary and extraordinary times. We have been busy – in just the last year, we have seen significant transformation, including:
Reorganizing and hiring more senior-level staff, as well as adding new, respected industry veterans to our Advisory Board (see our Leadership page)
 

Curating more than ten advisory groups to better integrate member voices into our decision process


 
Creating and piloting our new member experience, which incorporates in-depth welcome and renewal surveys as well as Custom Member Plans based upon our members' specific goals
 
Launching our CMO Leader Roundtable, whose first meeting in late June exceeded our greatest expectations, championed by Kristi Combs from Greycourt, Carolyn Donnelly from CIBC, and Mariann Mihailidis from our Alliance Advisory Board
 
Upgrading our Alliance Research capabilities, as evidenced by last year's 2019 Competitive Landscape Study, this year's soon-to-be-published 2020 Fees & Pricing Study (with over 85 firms participating), and plans already underway for next year's industry-first 2021 Client Survey.
And there's more to come.
---
2020 Virtual Fall Forum
Like many of you, we have been revisiting and upgrading our virtual capabilities over the last six months. We can't wait to show you what we have in store for the 2020 Virtual Fall Forum: Resilience in Extraordinary Times (October 20-23). While we pride ourselves on the intimacy of our in-person events, virtual programming has given us the opportunity to offer unlimited seats for Alliance members, 9 live and over 15 on-demand sessions, additional CE credits, and more affordable registration options for non-members.
Registration includes access to the 2020 Young Professionals Awards ceremony. Our 25 winners were chosen by a panel of six outside judges, all impressive industry veterans. It also includes the unveiling of our 2020 Fees & Pricing Study and 2020 Young Professionals Report. The latter is sourced from in-depth interviews with over 50 rising stars in family wealth and covers topics like training, mentorship, and perspectives on the future of family wealth.
Our appreciation goes out to this year's Fall Forum Co-Chairs for their invaluable help planning and executing this momentous event: Kristi Kuechler of Vernal Point, Jack Thurman of BKD Advisors, Adam Newell of DiMeo Schneider & Associates, and Katherine Dunlevie of The Family Office at Synovus. Registration opens today.
 
---
Alliance Young Professionals Network
Our Young Professionals sessions at the Fall Forum are just the beginning of a new Alliance offering: The Alliance Young Professionals Network. Our YPN will meet on an ongoing basis to network, share challenges, plan new initiatives, and receive educational and mentorship opportunities tailored to professionals under 40. Participation in the YPN is open to all members and included in membership.
 
---
New virtual content
As of today, you'll see an updated Alliance website that's more informative and easier to navigate, featuring our brand-new Alliance Talks series and a relaunched Alliance Forte program. Alliance Talks are to-the point interviews with innovators in the family wealth space, available on demand. Alliance Forte is our exclusive, members-only rolodex of outsourced providers who have been personally recommended by multiple family wealth clients, with references available upon request. Each Forte provider offers a discount or complimentary consultation to Alliance member firms and their clients.
Later this year, we'll be launching a new webinar series on building and maintaining a best-in-class family wealth firm. This very topic will be kicked off by an all-star CEO panel at our Fall Forum, with Rob Francais of Aspiriant, Kathy Lintz of Matter Family Office, and Leslie Voth of Pitcairn.
 
---
2021 plans
Next year, we're offering additional Leader Roundtables, fielding an industry-first Family Wealth Client Survey with the help of Eric Almquist of Bain & Co., based on their Elements of Value, and – of course – planning a phenomenal 2021 Summit (April 19-21 at the Phoenician in Scottsdale, AZ).
 
Our goal, as always, is to create a more valuable and elevated experience for our member and partner firms. While there are many exciting developments in the works, our purpose remains the same: to foster a collaborative family wealth community fueled by a desire to serve clients and the industry at the highest level.
Thank you for helping us grow.

 
Respectfully submitted,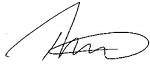 Thomas R. Livergood
Founder & CEO